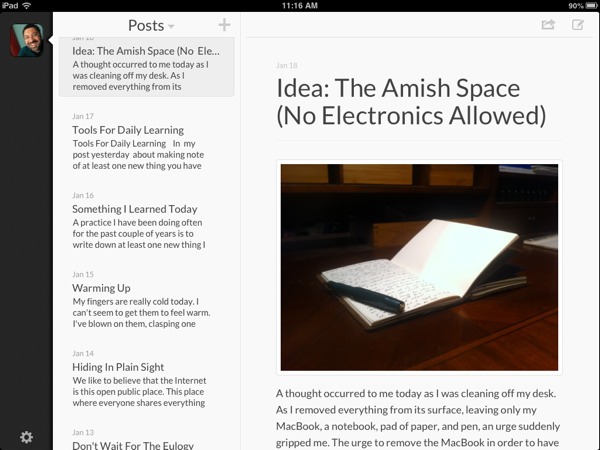 I've recently been enjoying using Poster for iOS for publishing my posts here. It is far better than the official WordPress iOS app. The interface is lovely. It understands Markdown. It is easy to use. And it works on both iPad and iPhone.
Many people had asked me, when I published about my daily publishing workflow, why I was not using it. The simple answer is that that I had tried on a few occasions before. For whatever reason, I could not get it to work with this site previously. Not sure if it was an issue with the app or the install on my site but something was mucking up the works. I never bothered to take the time to contact the developer and get it sorted out. Mea culpa.
The app was recently updated to version 2.0 offering a bunch of newness so I decided to give it another shot. Very glad I did because it is working just fine now. Having it saves me a number of workflow steps when publishing from my iPhone or iPad mini (as I am right now). Beyond the already mentioned features, there is support for pulling posts directly from Dropbox (which is great because I still use PlainText for the actual writing), the ability to save local drafts before publishing, and the ability to post to multiple WordPress sites.
All in all this is a really great app. If you use WordPress and an iOS device, you should check it out.