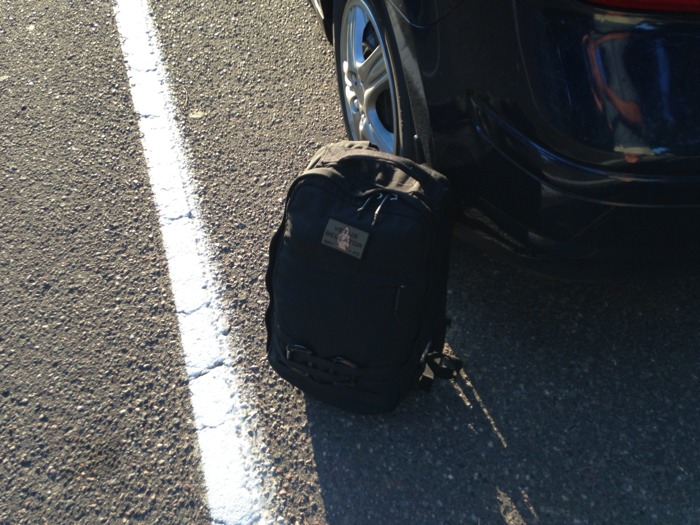 This originally appeared on the Pack Light, Go Fast blog. Reposting here for archival purposes.
This is my GORUCK GR1 packed and ready for a week long road trip. This is the only bag I need.
I pack light. Always. I hate the very idea of carrying more than I absolutely need. This is as true in my day-to-day carry as it is on a long road trip. The secret, I have found, is to work to ensure that the things I would pack for myself for a three day journey are the same as I would pack for a thirty day journey.
The secret is to pack things that I can wash and dry quickly (overnight). As well, what you want is not only clothes that can wash and dry fast but also those with complementary colors that you can mix and match. Having, say three shirts, three bottoms, and their corresponding accessories (socks, underwear, etc.) can give you enough combination choices that few will ever notice you are wearing the same small supply.
Now, I'm not going to bore you with brands and links about what I have. Because that does not matter. There are tons of great brands that make this stuff, many of which have been covered here before (Patagonia, Ex Officio, Travelsmith, etc.). What matters is the elements as described above. What I can tell you is the basic outline of what I have packed in here:
Three button down shirts.
Three t-shirts.
Two pairs of shorts and one pair of long pants.
Three pairs of socks.
Three pairs of underwear.
Swim trunks.
Self packable wind/rain jacket.
Super absorbent pack towel (for hyper drying wet clothes).
GR Tac hat.
Kit bag.
MacBook Air (11 inch).
iPad mini.
Small bag with misc. electronic cables and dongles.
Notebook and pens.
As you can see, there is a lot packed into that bag, but not too much. Only just what I need. Everythng is designed to be light and pack small. And this could keep me for as long as I want. Three days or thirty, no matter.
This is just to say that having the right gear matters and you can get a whole lot of mileage out of very little carry. I do whenever I travel and have long been convinced it is the only way to go.