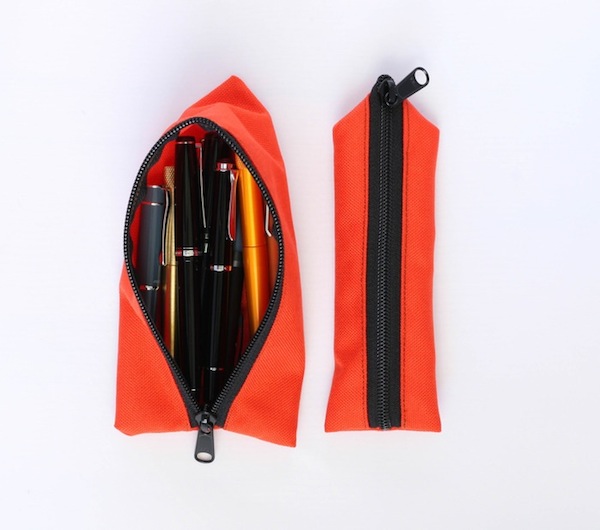 I could not be more pleased with the items I received from Nock Co. after having backed their successful Kickstarter campaign. But, of the bunch, so far I'm most pleased with the design and utility of The Chimneytop Pop-Up Zip Cases. They are made primarily with writing instruments in mind but can be used for a iety of other items as well. These have really filled me with delight each time I take them out to use them.
I received both the small and the medium. I'm using the small for pens. I generally have a number of pens in my bag and have been known to use several at once (different colors, point sizes, etc.) when taking notes. Therefore, it is nice to have a case that, when open, allows me to easily see and retrieve the contents inside. It looks handsome on the desk. And, thanks to the way they are designed, once zipped it becomes a nice trim package.
The medium I'm using for other items I like to carry in my ruck — headphones, a small flashlight, a Swiss Army knife, and other sundry items that otherwise knock around the top pocket. Once again, it creates a nice trim package of this stuff when zipped.
Between the two, things are neat and contained. Both are very sturdy too thanks to using 1000D Nylon.
Now, Nock Co. is still trying to catch up with the Kickstarter orders. They have not officially opened shop to the wide world yet. I feel sort of bad reviewing and recommending something that can't be ordered yet. That said, I know the guys there are working as hard as they can to do so soon. Great products, from great folks, made in the USA, at reasonable prices. Keep them on your radar screen.